History and Milestones of Precious Blood
of Our Divine Savior Catholic Church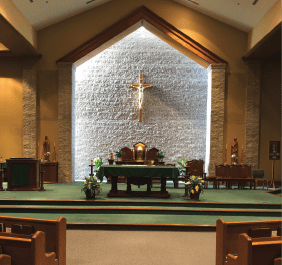 ■1954 – Precious Blood Parish is founded. Bishop Grimmelsman purchases 10 acres from the William Lechner farm. Reverend Ralph Endress is assigned as founding Pastor.
■ 1956 – Fundraising for the Church/School is completed and building plans begin.
■ 1957 – The Church and School building is completed and dedicated on November 24.
First ever First Holy Communion is celebrated on December 8.
■ 1958 – First Eighth Grade graduation is celebrated in May.
■ 1959 – First Confirmation class is celebrated by Bishop Grimmelsman on October 25.
■ 1967 – An additional 4 acres is purchased from the William Lechner farm as an expansion to the grounds. The Sisters' convent is built south of the main building. A rectory for the Pastor is built at 1458 Gregory Lane.
■ 1979 – Parishioner Eugene Schroeder is ordained a priest.
■ 1980 – The Parish Council is formed.
■ 1981 – Doris Seng is hired as the first secretary/treasurer. Prior to that, such work was performed by volunteers. Parishioner Frank Renner is ordained a priest.
■ 1988 – Precious Blood School continues to grow; overcrowding is occurring and a decision is made to change from kindergarten through 8th grade to nursery school through 5th grade.
■ 1992 – As Precious Blood continues to thrive, a Building and Planning Committee is
formed to evaluate the improvement and expansion of the Church and School.
The Parish Endowment is established.
■ 1996 – Renovation of the School and construction of the new Church begins.
■ 1998 – The new facilities are dedicated by Bishop Gettelfinger on March 14.
■ 1999 – The Parish begins serving Funeral Bereavement Meals.
■ 2002 – A home at 1517 Gregory Lane is purchased as the new rectory for the Pastor. The Sisters move into the former rectory at 1458 Gregory Lane. The Sisters' convent is
converted to the Parish Center.
■ 2004 – Precious Blood is 50 Years Old! Parishioner Michael Krempp is ordained a deacon.
■ 2005 – Parishioner Jerry Gagne is ordained a deacon.
■ 2008 – Our new Church is 10 years old.
■ 2010 – The Divine Providence Adoration Chapel is opened.
■ 2011 – The Memorial Garden is established to honor loved ones.
■ 2012 – The rectory at 1517 Gregory Lane is sold. The Sisters move into an apartment in Jasper and the home at 1458 Gregory Lane becomes the rectory once again.
Precious Blood links and partners with St. Mary Parish in Ireland.
■ 2015 – Our School changes with the consolidation of Precious Blood, St. Mary Ireland and Holy Family and becomes Holy Trinity Catholic School with West, Central and East Campuses.
■ 2017 – Precious Blood and St. Mary Ireland once again become separate parishes.
■ 2019 – All pre-school and pre-K students attend the Central Campus of Holy Trinity
Catholic School.