Links to other sites that provide information on the Catholic faith, the Catholic church, spirtual growth and general information:
The seat of the Holy See and the residence of Pope Benedict XVI
The unified body of the Catholic Church in Southern Indiana
Our Diocesan Newspaper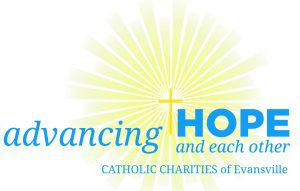 Catholic Charities of Evansville offers outpatient individual, marriage and family counseling, life, job skills and family development programs, and Immigration Legal Services.
A great informational site covering the Church in the United States, current events, movie and book reviews and recommendations, daily readings and much more
"We, the community of Holy Trinity Catholic School, come to learn and go forth to serve while trusting in Divine Providence."
TEC offers to youth and young adults the opportunity to encounter and integrate the Paschal Mystery at a time of passage into young adulthood. What the Church celebrates annually through the seasons of Lent-Easter-Pentecost and through the sacraments of initiation, TEC condenses into a three-day experience.
SOURCE + SUMMIT began as a lay initiative in response to a challenge from Pope John Paul II at World Youth Day (WYD) 1989 for a new evangelization of our young people that would prepare them for the new millennium.
Cursillo is defined as a "short course in Christianity".  The Cursillo Movement is a movement within the Catholic Church that shares the fundamentals of being a Christian as an individual and in community.  The Cursillo helps people  discover and fulfill their personal vocations while promoting groups of Christians who leaven their environments with the Gospel.
Going to miss Mass this weekend? We are making it easy for you to find a Mass where you are going to be.
Dynamic Catholic isn't just a website. It's a community, a movement, a group of people much like yourself who are trying to make sense of life and live the best life they can.
The Word Among Us online includes daily meditations based on the Mass readings, inspirational essays and stories of the saints and other heroes of faith.
Bishop Robert Barron is an author, speaker, theologian, and founder of Word on Fire, a global media ministry. Word on Fire reaches millions of people by utilizing the tools of new media to draw people into or back to the Catholic Faith.
Relevant Radio® assists the Church in the New Evangelization by providing relevant programming through media platforms to help people bridge the gap between faith and everyday life.
Deepen your spirituality. Discover a great book. Find daily inspiration.